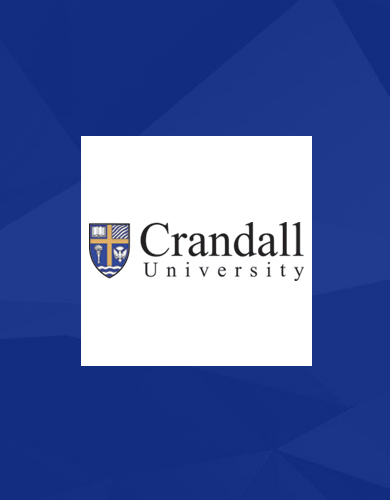 For more than six decades, Crandall University has been characterized by strong and innovative academic programs that are led by world-class faculty, an intimate and diverse campus community, exceptional return on investment, and most of all, we are known for students and graduates who make an impact in their communities and professions.
Centrally located on a beautiful, 200 acre, campus in Moncton, New Brunswick, Crandall University is widely becoming known as Atlantic Canada's leading liberal arts university rooted in the Christian faith and welcoming of all students who wish to explore the Arts, Science, Business and Education.
Crandall University offers a Bachelor of Arts degree with a variety of majors; a Bachelor of Science degree with a major in Biology; a Bachelor of Business Administration with a Co-operative education option; an Organizational Management degree completion program for mature students; and one of the region's preferred Bachelor of Education degrees with majors in Elementary and Secondary; as well as graduate level Advanced Education Certificates in Literacy and Resource Education. Rounding out this education are significant opportunities for student engagement, co-curricular activities, holistic advising, community involvement and personal growth.
Take Charge of your future
We would love to help you discover how Crandall University can be a part of your story. For more information on programs, scholarships, student life, or to arrange a campus tour by one of our student ambassadors please visit our website at www.crandallu.ca.
You can also e-mail our Admissions office at admissions@crandallu.ca, call us at (506) 858-8970 or toll free at 1-888-968-6228, friend us on Facebook or follow us on Twitter.
---
Our address
333 Gorge Road
Moncton, NB
Canada
E1G 3H9
---
Website
Email
Phone
506-858-8970
Toll Free
1-888-968-6228
Fax
506-858-9694